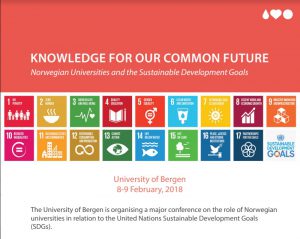 The programme has been released for the Bergen University conference "Knowledge for our common future – Norwegian Universities and the Sustainable Development Goals (SDGs)".
The University of Bergen is organising a major conference on the role of Norwegian
universities in relation to the United Nations Sustainable Development Goals
(SDGs).
The University's ambition is to engage Norway's research and higher education
communities, politicians, government officials, NGOs, and the business sector in
a collective effort to locate and take responsibility for the implementation of the
SDGs, at all levels of society. The overall objective of the conference is to identify
connections among the 17 SDGs, to discuss how universities can carry out research
to inform the implementation of the goals, and to explore transformations of
higher education to meet the needs of future generations.
The conference is initiated by the University of Bergen and planned in dialogue
with other Norwegian universities, the Ministry of Education and Research,
the Ministry of Foreign Affairs, the Norwegian Directorate of Health, and the
Norwegian Agency for Development Cooperation.
Registration opens 15 November, 2017.
Updated programme and registration
Sist oppdatert: